Additional Reading about Fast
My Side of the Story
On December 14th, 2020, Domm Holland reached out via Twitter DM and sent "Hey... would love to chat about our DevRel ambitions with you some time." I am always excited to talk about the industry I work in, I have a strong passion for it, and agreed to a call. Naturally, I was intrigued. Fast was a new company, but upon research, it appeared they had some definite momentum behind their brand and what they were building. Their Twitter following was actually quite impressive for their funding & product stage. I chatted with a mentor of mine, and he assured me that a role with the company could be a good career move. I signed an offer without a job description, thinking nothing of it at the time.
It didn't take long before I noticed the behavior of a Product Manager. He had a clear lack of respect for women—interrupting them during meetings, undervaluing their opinions and ideas, & pushing his agenda in any way possible. We were working through the procurement process for a documentation platform, which I was unofficially taking lead on. He shared the decision the team had already made to leverage a specific platform. I shared my insights on how I felt that platform missed the mark in a number of areas—capturing feedback, community integration, & allowing contributions from users. I have years of experience in this industry, and I was at the company to leverage that experience for growth.
He refused to understand these needs and criticized me without recognizing my role and what I was hired to do. On one occasion, he even made me cry because he began yelling at me and expressing how I was causing problems for the team by instilling my knowledge, as I was hired to do. It was during a difficult emotional time, that he was fully aware of. I was preparing to move from Colorado to Texas and my grandmother was in the hospital dying.
I reported this behavior to my manager and shared the story detail-by-detail and what took place. As usual, he told me that we were all working to get the tooling and things we needed and that brought about stress for everyone and to continue to instill my knowledge. I still did not have a job description and wasn't sure where my ownership truly stood and if documentation was something that I had the autonomy to change the decision around. I felt pressure from referenced Product Manager and eventually gave in to adopting the platform he preferred as our documentation platform when my grandmother was getting worse. I didn't have the energy to fight with him any longer.
I continued to be pushed around by referenced Product Manager as I implemented and built our documentation solution. I was constantly left out of key meetings and never provided insightful feedback to drive the greatest impact. I took the week of February 15th, 2021 off to facilitate my move from Colorado to Texas. During that same week, my grandmother passed away. At some point, I spoke to the Head of HR about needing additional time to mourn the loss of my grandmother. He told me to take the time that I needed and that he would take care of things internally, informing folks I worked with that I would be out. However, the Head of HR did not give me the time that I needed, calling me approximately two days after saying that, asking when I was returning to work. I felt pressured to return to work, even though I had no clear direction on my work or ownership, so I only had those additional couple of days off.
On approximately March 1, 2021, the Head of HR reached out during my bereavement time off and insisted to speak with me immediately. We entered a conversation where the Head of HR brought up two points. One was that my manager, was concerned about my time out of the office and felt like there was a lack of communication around it. I raised to the Head of HR that he had expressed that he would be handling internal communications and that I had done my due diligence to communicate with him at every opportunity. He had no constructive response and moved on to the next point. I had been facilitating interviews & supporting engineering in finding a technical writer that could work alongside the engineering team to document our product and work within my function, Developer Relations, to deliver impactful developer documentation. The Head of HR shared with me that they had decided to rescind the job offer they sent to the candidate that my manager, myself, and a founding engineer had agreed upon mutually. I was not given the opportunity to speak to this decision or share the adverse impact I felt this would bring to the company from the wider developer community, and was told this was a final decision.
I returned to work immediately following the week of my grandmother's funeral, feeling disrespected & disregarded by the Head of HR and my manager. I continued to share how referenced Product Manager treated me and that I lacked context to successfully do my job with my manager. As usual, he would continue to tell me that we were all trying to get the resources and things we need to find success, never truly delivering any valuable insights or guidance. I still had no job description or clear understanding of my ownership overall & responsibilities.
I do not recall the exact timeline, but Fast brought in two new male leaders. Both of these leaders had insights into developers and experience working with past developer relations teams. I was so thankful. I thought for sure I would be able to work alongside these new team members to help Fast better understand what developers need.
I had a 1:1 meeting with one of the new male team members where I expressed the same sentiment around documentation that I had been expressing my entire tenure at Fast, and he agreed with me. I felt liberated. Someone else to help me push these insights forward. It was clear that the Fast leadership immediately trusted this new employee and shared this very vocally in all-hands and other company calls raving about him and his experience. Admittedly, it was a lot more attention than I ever received during my early days, but I shrugged it off because I was thankful for someone who could help me help them.
On May 24th, 2021 I had a 1:1 again with this new employee where he had shared with me that he told the Head of Product about the conversation he and I had previously had about the impact of documentation on developers adopting our product. And that the Head of Product was eager to get involved, unlike earlier when I shared this same sentiment with him and his team. I was frustrated. Why did this new employee's word matter, but mine didn't? I told my manager I felt I was being discriminated against as a woman and he became physically angry. Telling me that there was no way the company was listening to the new male employee and not listening to me, even though I gave him a clear example. Due to his clearly angered response, I dropped the topic and we ended our 1:1. Later that day, there was a meeting on the calendar (a meeting that was created because of the new male employee & the Head of Product discussing documentation) between Domm (CEO), reference Product Manager, the Head of Product, myself, and I believe two other male coworkers—one an engineer and one an engineering manager.
In that call, we discussed a customer situation. I continued to share how important documentation was for developer success. During that call, Domm (CEO) gave me clear ownership of our documentation offering (for the first time!) and getting it in the hands of developers, and that engineering & product were responsible for delivering the first written form of documentation for my team to improve upon and publish. We discussed having a brainstorming session about the referenced customer and I shared that I could likely drive impact in helping them find success. We all agreed that we should meet and discuss this feedback and make impactful decisions to support this customer, future customers, and our documentation offering overall.
That evening I received a calendar invitation from referenced Product Manager, titled "DI Documentation Jam." This meeting was scheduled for the following day, Tuesday, May 25, at 6 pm my local time—after my working hours. I was also marked as optional, for a meeting that I should have technically been organizing per the CEO's latest direction just hours beforehand. Product Manager left a note for me in the description of the event, "Tessa - undersand this is out of your working hours but we will record this session to help you get the context."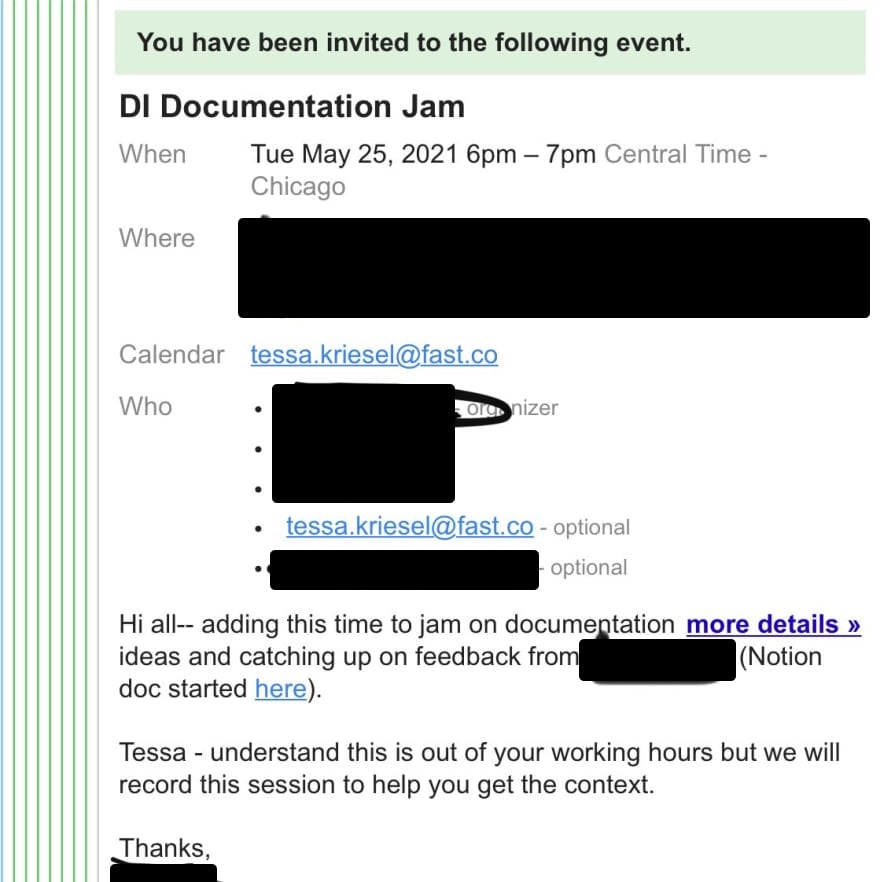 This was yet another example of referenced Product Manager's behavior to leave me out of key meetings and not allow me to provide my knowledge and experience to drive impact at Fast. I responded "I can't attend at this time and would like to be there. Can we find a new time?" Product Manager responded with "Maybe we can do it 1h earlier or the same time on Wednesday." My working hours ended at 5 pm. An hour earlier would mean starting an hour-long meeting at 5 pm, when I end my day, and the same time the next day was still 6 pm, outside of my working hours. I am a mother of 3 children and have a family to care for at 5 pm—homework, dinner, baths, bedtime, etc.
I responded with kindness, even though I was not being treated kindly, stating "I assume it's a hard slot to book. I'll try to join tomorrow night." I refused to let these men push me around any longer. I needed to be in that call, they were deciding the fate of an area I owned and was now responsible for per the CEO. The Head of Product then replied stating, "We'll make it super productive." The Head of Product should have called out his team member for the context of the event, to begin with, instead of reassuring referenced Product Manager that his behavior was acceptable. I responded with a hands-up emoji, even though I was beyond frustrated and felt abused by both men.
Product Manager responded, stating, "Also as mentioned in the invitee, we will record the session if you can't make it." To me that felt like him, yet again, telling me that my knowledge and experience were not needed to make these key decisions. All I could hear in my head was, "Don't worry about this, the menfolk will make all the decisions for you and it will be easier on you." I was physically ill.
I responded stating, "Of course. But I want to provide active feedback as we strategize improvements to docs. Or are you only talking through feedback?" I was referencing the customer experience as discussed in the earlier meeting with Domm, a final effort to better understand why I was being left out intentionally and that maybe the plan was to only share the customer's experience. If it was only presenting the customer's experience, I could watch the recording and draft my own strategy from that for documentation improvements. Product Manager responded and stated, "Haha.. nope, it's going to be very productive as 'the Head of Product' has mentioned but just mentioned it. Looking forward to it." I was hurt. This bully is now laughing at me. I responded with, "Well then I want to be there. I don't want to sound rude or petty, but dismissing my attendance does not make me feel super fabulous."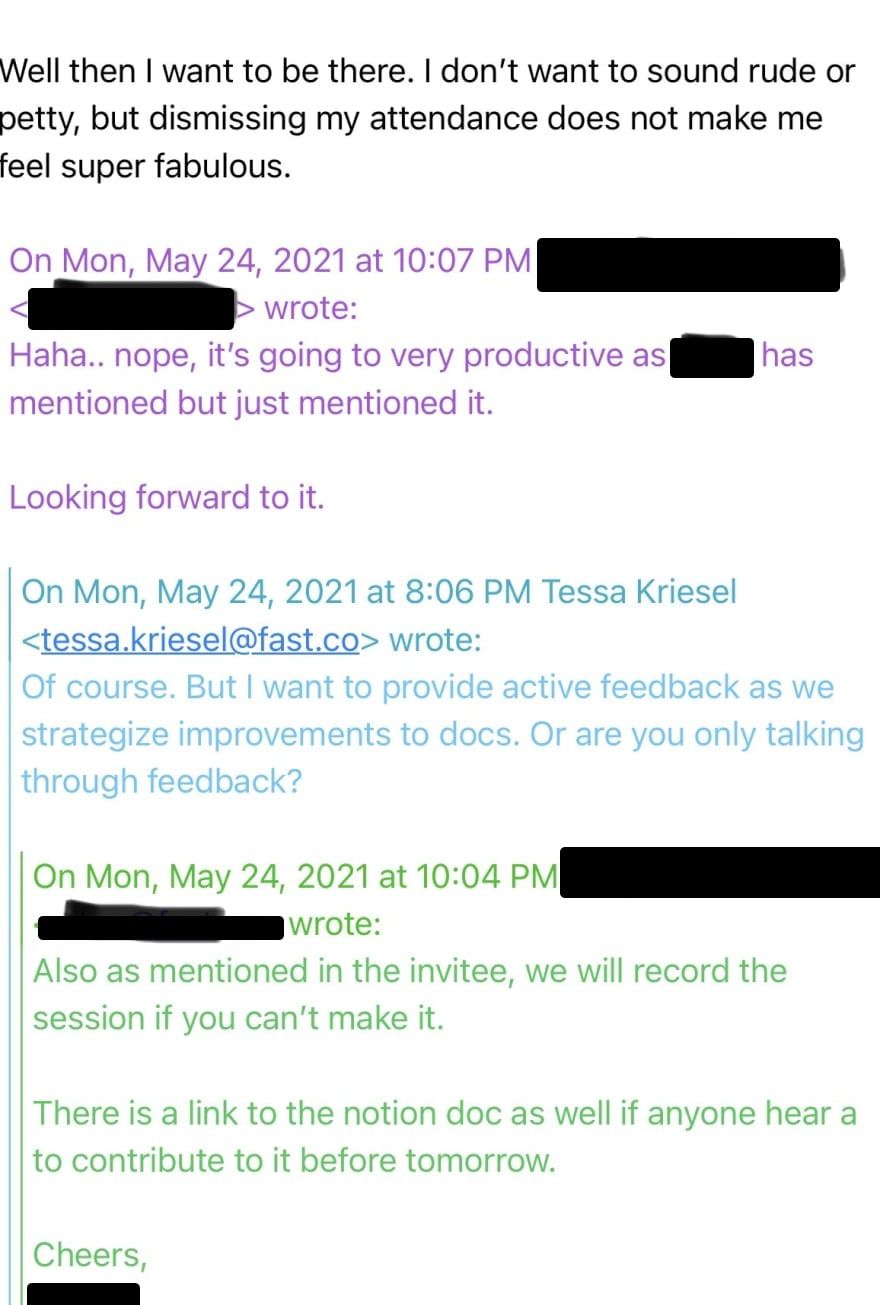 The next morning, I discussed this conversation with two female engineers at the company, validating if I was over-reacting, or if this situation was truly as disgusting as I felt it was. Both of them shared the same sentiment as me, appalled by the Product Manger's behavior, and both shared with me instances where this same person had verbally insulted them by stating things like they were "not technical enough." They were both incredibly technical and capable engineers in my professional opinion. I was hurt for them, and for me. Why was this toxic male team member allowed to push around women with no recourse? I shared my sympathies with them and ensured they knew I would be there to provide support if such behavior happened again.
After this conversation, it was clear to me that Product Manager and the Head of Products' behavior was unacceptable and truly discriminatory. I forwarded the email conversation to my manager around 12pm central time expressing that this was the type of behavior I had been sharing with him time and time again, but that this time it was documented and clear.
Later that day I was told I needed to be in a meeting at 4 pm my time. The calendar invite came in and the attendees were the Head of HR, my manager, HR support, and myself. As a team leader, I know what happens when two HR representatives are in a meeting.
I attended the meeting and my manager told me I was being terminated for lack of performance. I laughed and asked "on what grounds? What is the performance you expect of me? I have no job description, you provide no clear direction or guidance, and up until yesterday afternoon, I had no idea what or if I owned any work." I began sharing his failures around not reporting the harassment and struggles I endured. The Head of HR paused me and asked my manager to leave the conversation. After he left, I continued speaking to the Head of HR and HR support, sharing my frustrations and my manager's lack of capabilities around addressing harassment, providing management in any capacity, and that I still did not have a job description and have never received negative feedback or a performance review of any kind. How can you fire someone for lack of performance when they have nothing to perform against? They shared some logistics around the termination details and that a contract would be in my inbox soon. I requested that my employee file be sent to me before the end of the day. And we ended the call.
I was presented with an offer of 5 weeks separation pay for my silence around this matter. As the only income provider for my family, and due to our recent life struggles, my family and I really needed this pay. However, I knew what taking this pay meant and I was fed up with the injustices that continue to happen across the tech industry.
Later that night, I posted on my personal Twitter account about the termination. The Head of HR calls me, long after my working hours have ended and my children were in bed, and threatens me, telling me that my recent tweet would disqualify me from receiving my separation pay and that I still had the chance to delete it. Meanwhile, that tweet received many responses outlining other abuse that folks had received from Fast. I knew in my heart that I couldn't take their "hush money." I told the Head of HR to "fly the coop" and hung up the phone.
Filing a Lawsuit
I immediately sought legal counsel and requested attorney recommendations in the San Francisco area. I was lucky enough to be referred to my current attorney. She took my case with no cost to me and we began collecting details. I won't bore you with the details, but they threatened to counter sue me if I sued them, as well as lied about my employment history when asked. They have caused me nothing but pain and heartache.
In order to file a lawsuit, I had to report them to the EEOC and go through a rigorous reporting and interview process. We finally obtained the right to sue letter in early February, with the lawsuit filing coming just weeks later on February 28th.
Additional Reading Materials
How You Can Help
Many folks have asked how they can help so I've pulled together a few options.
Share words of encouragement — this process is emotional and painful. You can tweet at me or send me a message.
Share this story or any of the resources listed above with your network. We need to raise awareness of this behavior to change the tech industry for everyone, but specifically those in underrepresented groups.
Support others who are going through similar situations—like Cher