I hopped on a zoom call with a DevRel industry friend to catch up back in July after being wrongfully terminated from my previous role in May. We chatted like old friends, even though we didn't know each other that well. I appreciate it when I find people in my life where we click. Where the conversation comes naturally—growing my affirmation as it flows more quickly and easily, like a perfectly fitting puzzle piece. It's like that with her.
We chatted a bit about what I was going through—I was raw & candid like friends would be. As we progressed through the conversation, we hit an influx where she shifted to her "hidden" agenda. I say this most positively because it was a stellar sales pitch. She told me that she was looking for a Director of Advocacy & Community and that I was the right person for the job.
She told me that she was looking for a Director of Advocacy & Community and that I was the right person for the job.
I kind of wish I had that conversation recorded. I was oblivious to her hidden agenda. We had both been through similar situations in tech and previous to that she had been sharing other job opportunities and resources she knew of. I was blind-sided and I loved it.
But I don't want a job
After my last role, I decided that self-employment was the only thing I was interested in. I wanted to control the environment around me and the people that I work with. For those that are new to following me, I don't sit on the sidelines while bad behavior plays out in front of my eyes, I call it out, even if that's at a risk to my own employment & cozy situation. I was too tired to join yet another tech company that had a slew of problems and toxic behavior they continued to encourage.
As she started sharing the opportunity though I could feel the excitement beginning to stir in me. I tried desperately to talk myself down, but her sales pitch was too good. And to think they say there aren't sales in DevRel.
Spoiler alert, I took the job
I can't fool anyone here, the title gives it all away. I eventually signed the job offer and started at Lacework in August.
Key reasons why I joined Lacework
Career growth opportunity
What Lacework is doing
Career growth opportunity
Lacework is special—coming out of stealth mode in 2017 and primarily serving the security industry—they recently received $525M in Series D funding and grew their team exponentially in 2020.
Lacework is growing revenue at over 300% per year—making Lacework one of Sutter Hill Ventures' most important and promising portfolio companies.
Mike Speiser, Managing Director, Sutter Hill Ventures
Lacework's market focus being primarily in the security industry intrigued me. It's essentially a new product to the broader developer community, yet they have the stability and revenue to build & scale great developer products & programs. That meant having the resources to develop & scale programs far beyond what I've done in previous roles.
Being a part of the developer experience story and taking Lacework to the next level is what my resume needs—and deserves.
What Lacework is doing
They're listening.
On many occasions, Lacework has proved they will capture feedback, strategize the best solution internally, and deliver a better experience driven by employee or customer feedback. I had the opportunity to share many of my thoughts and ideas for improvement with an executive 1:1, and they listened. They provided helpful responses and proved they truly valued our conversation and my input.
Before joining the team, they provided stakeholder buy-in for the developer experience function, looking to that team for market insights. When you have the support of the CEO's & executive leaders, it's a lot easier to do your work, drive impact, and surprise & delight your users.
I'm hiring
I've onboarded one developer advocate, currently onboarding our community leader & another developer advocate, awaiting a developer advocate to join in mid-February, and interviewing for one open developer advocacy role. Our team reports up to Customer Success—meaning we're putting the customer's needs at the forefront of what we do. It's probably my favorite function to report into thus far.
The advocacy & community team plays a key role within the developer experience function to drive awareness and inspire our users through resources & community. Our team is parallel to the education team, who's focused on enabling & educating our customers.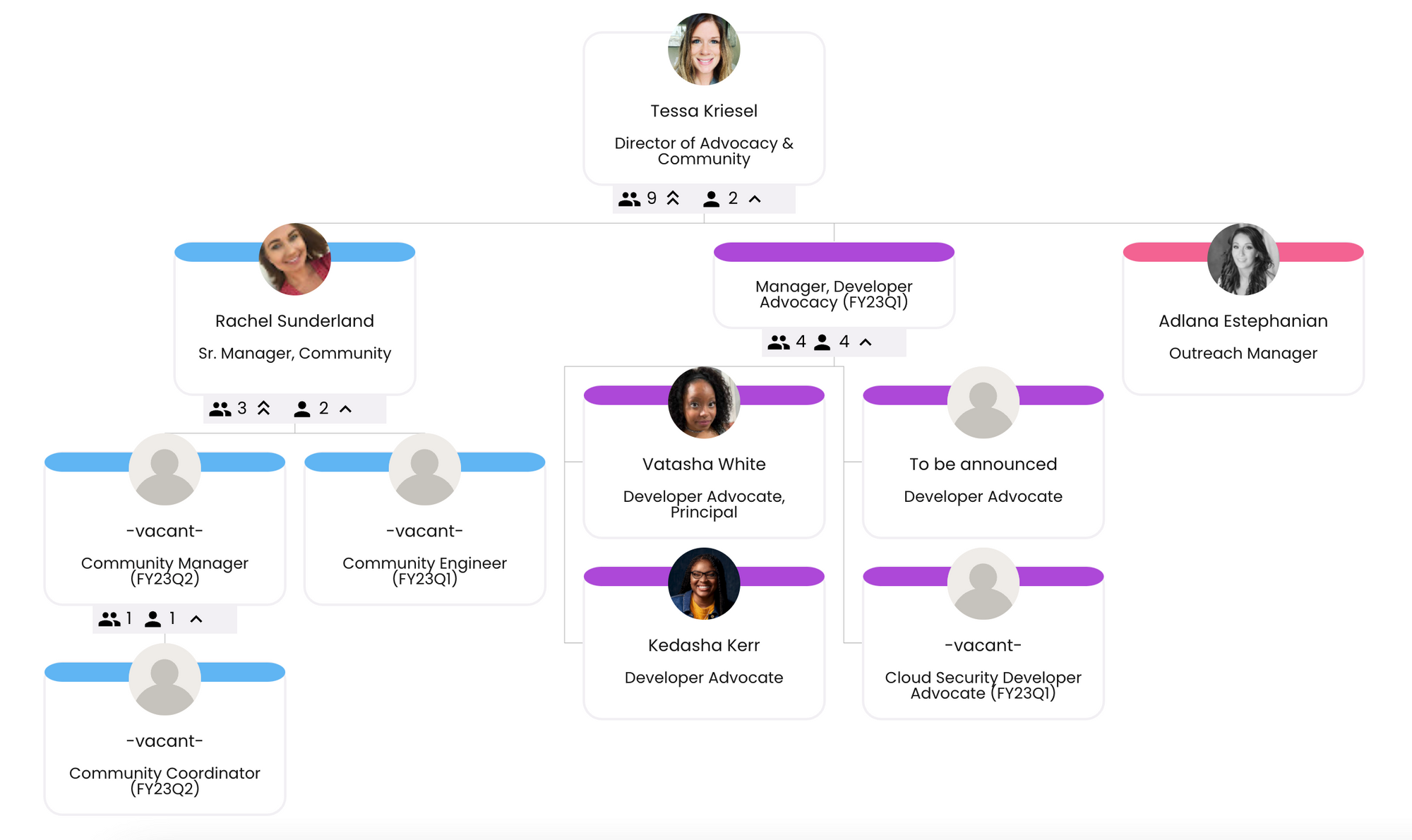 I'm actively hiring one developer advocate and our Program Management team is looking for an Associate Program Manager to cover my team's programs.
Do you share our values?
📖 Be Open
to new ideas, feedback, think outside the box
🙌 Win as a Team
no I or me, celebrate success together
⭐️ Put Customer First
Delight customers—anticipate needs before they are aware of it
🏃‍♀️ Be Bold, Be Fast, Learn
strive for the best, innovate in what you do, fail quickly, and learn from it
💪 Get Stuff Done
embrace challenges, persevere, and finish what we start
Please apply or reach out if any of these roles are intriguing to you and your career journey.
To new adventures
I'm excited about my work at Lacework and I can't wait to share what I learn and the impact our team drives in future blog pieces both here and over in the Devocate blog.